As teams across the league begin to cut their rosters down to the maximum of 53, the Arizona Cardinals have made waves with the release of QB Matt Leinart.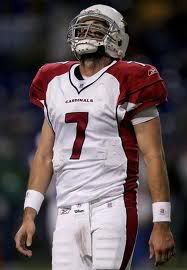 Leinart went in to the offseason as the heir apparent to Kurt Warner as quarterback of the pass-happy Cardinals but was unable to distinguish himself from free agent acquisition Derek Anderson in the eyes of head coach Ken Whisenhunt.
Earlier in the week it was reported that Arizona was seeking to trade the former first round pick with the Buffalo Bills, Oakland Raiders and New York Giants having been involved in discussions, according to league sources.  Instead, the Cardinals look to move away from their top selection in the 2006 draft.
Leinart bristled at the brewing quarterback controversy this preseason.
"I don't really know what else I could possibly do," Leinart said Monday.  "It probably goes beyond football, beyond the field actually.  For me, I am not making excuses.  I am not going to complain.  For me, I just really want an explanation and I haven't been given one."
Over the past week I have received a dozen or so emails asking if the Chiefs would want to bring in Leinart to reunite him with his former offensive coordinator in Todd Haley.
The short answer is no.
The longer answer is that Leinart is the wrong fit in every way possible.  Just listen to him talk, those same "beyond the field" issues wouldn't go away simply with a change of scenery.
We've heard it plenty over the last year and a half, but the Chiefs are looking for big, strong, tough, smart, fast, disciplined football players.  During his career, Leinart hasn't shown a whole lot of any of those things.  If anyone would know how the quarterback conducts himself on and off the field, it would be Haley.
Kansas City values Brodie Croyle as the second quarterback, so the Chiefs likely aren't in the QB market.  Even if they were, Leinart was clear that he has no interest in being a backup.