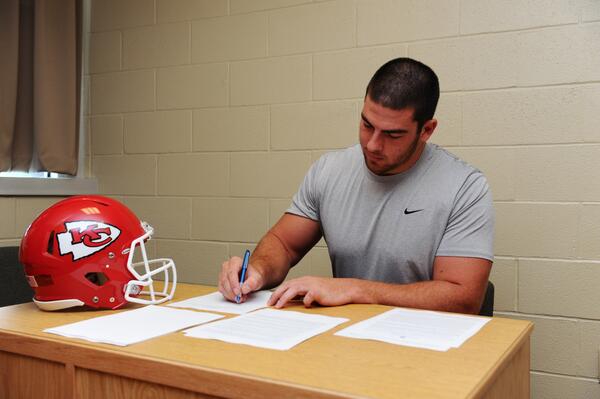 The Kansas City Chiefs were able to avoid having to deal with a holdout by just a few hours. First overall pick Eric Fisher and the Chiefs agreed to terms before the first practice of training camp Friday.
Fisher did miss the first couple of days with the rest of the team's rookies, quarterbacks and previously injured players, but he'll be suited up for the first practice that matters. The big man from Central Michigan was pumped to get the contract out of the way as he arrived to join his teammates.
"I'm real excited to be here," Fisher told the official site. "Just had to get that contract done but, I'm really looking forward getting to training camp here, joining the team and glad we could get to an agreement and get it done."
In addition to playing time — he's immediately the starter at right tackle — Fisher won't have to worry about money. His five-year deal is worth $22.5 million, including a $14.5 million bonus.
Even better, as PFT reports, Fisher will take home $10 million of that bonus within five days. The rest of that bonus will be paid in full by February 15 of next year. Fisher will also collect training-camp roster bonuses the next three years of $918,659 in 2014, $1,837,318 in 2015, and $2,755,977 in 2016.