With a win tonight to kick off the season, the Kansas City Chiefs will be a alone atop the AFC West after the Oakland Raiders and Denver Broncos lost on Sunday.  If you listen to Paul Bassire of Predictionmachine.com, the door will be open for the Chiefs to stay there thanks to what he sees as a down year by the Chargers (via Union-Tribune).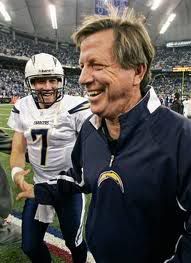 "One of the reasons," Bessire says, "is that we see Oakland and Kansas City making significant strides in the AFC West.  And with McNeill and Jackson not around, the Chargers don't match the numbers we've had them with recently."
"We have the Chargers making the playoffs 57 percent of the time, in the Super Bowl 9 percent of the time, winning the Super Bowl 5 percent of the time," Bessire says.  "The Jets, Patriots, Colts, Ravens, Packers, Cowboys, Saints and Eagles are ahead of them."
Of course, computers, like paper, do not win games.  Players and coaches do.  And Turner is one coach, while appreciating what the noncombatants do, who believes his club can be a major player in a league that doesn't have many of them.
"This can be the best team we've had here, and I'll be disappointed if we're not," Turner says.  "We have a lot of guys who have played football at a high level and a lot of those guys can get better.  We've added young players who have brought some explosiveness to the team.  I think our guys believe we're bigger, stronger, faster."
Something else that Turner made note of — and I think it's just as important for Chiefs fans to realize — is that you cannot judge a team after just one game.  If the Chiefs open The New Arrowhead with a win, it doesn't mean they are going to run away with the division.  Likewise, if they disappoint, another four win season isn't guaranteed to be on the way.
No matter what anyone wants to think after tonight, I'm just excited that we can sit here and talk about the Chiefs having a legitimate shot at winning the division.  The last few seasons, outside of a few uber-fans there wasn't anyone around Kansas City that felt the Chiefs had any chance to play meaningful games in December.