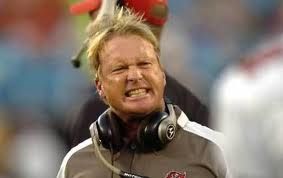 Most in the media have stuck with the San Diego Chargers as the team most likely to win the AFC West this season.  Yes, there are also a few picking the Kansas City Chiefs as a sleeper.  But the Oakland Raiders?  If you listen to former Raiders coach and current analyst Jon Gruden, there is a real possibility that the Silver & Black could be back on top.
"The Raiders should be excited," Gruden said in an ESPN conference call.  "I don't just say this being former a Raider (he pronounced it 'Raiiiiider') myself, but I do like their defense.
"If you look at their front seven, I know all the years I was coaching, I'd love to have that group.  Adding guys like (Kamerion) Wimbley, (John) Henderson, trading for Richard Seymour (in 2009), (having) Tommy Kelly, getting (Rolando) McClain in the first round.  That's a good front seven.  (Nnamdi Asomugha is) arguably one of the top corners in all of football.  I like everything about their defense. And I think I should. These are talented football players."
Gruden did not just toot the defense's horn, adding: "Jason Campbell, between he and Bruce Gradkowski, will do the thing they need to win there with this defense — protect the ball."
Gruden had much kinder words for the Raiders special teams, with punter Shane Lechler and kicker Sebastian Janikowski the only holdovers from his Raiders tenure.
"They have maybe the best punter in history.  And I'm not kidding you.  His statistics make Ray Guy look normal.  Shane Lechler is an equalizer," Gruden said.  "Janikowski can put points on the board.  They're going to be outstanding in the kicking game, very good on defense."
Both West divisions are likely the biggest mixed bags this season so it's hard to count any team out.  However you can color me skeptical when it comes to the Raiders.
Their defense should absolutely be formidable, which will keep them in a lot of games.  I just can't get behind the idea of a team coached by Tom Cable and constantly being meddled with by Al Davis getting things done in the thick of a playoff run.  One slight slip and either Cable will slug someone or Davis will find a coordinator to fire for no reason.
Say what you will about Josh McDaniels and the Broncos (or Haley and the Chiefs), they do things their way and don't run into interference along the way.  For better or worse you know things are going to be done how they want it, without being forced to make concessions along the way.  That doesn't mean either team will be successful, but I'll take my chances there as opposed to a franchise known to fill their seasons with nothing but distractions.