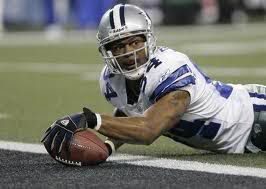 After a preseason seemingly full of nothing but losing players, the Chargers have made a significant addition.  San Diego traded a seventh-round pick to the Dallas Cowboys for WR Patrick Crayton.
"I'm glad that it's over so I can now know what needs to be focused on," Crayton told ESPN 103.3 FM's Galloway and Company.  "I'm going to a contender.  A legitimate shot to go out there and be the No. 2 and contribute."
Crayton sought a release following April's NFL draft, when the Cowboys selected Bryant in the first round.  After missing several voluntary workouts, Crayton returned for the mandatory minicamp saying he wanted to remain with the team.  But Crayton also said he wanted a fair opportunity at playing time.
Bryant's development — he was moved to the first team in three-receiver sets — raised concerns for Crayton about his ability to remain with the team.
He might not be the sexiest of additions, but Crayton does have 16 TDs over the last three years and will help fill the very large void left by Vincent Jackson's absence.
The Chargers have been an absolute mess this offseason, which has been great news for the Kansas City Chiefs.  San Diego is still the favorite to win the AFC West and more solid moves like this will only increase those odds.