Following a week full of what must have been very difficult decisions for the Kansas City Chiefs, GM Scott Pioli and head coach Todd Haley are now presented with one of the easiest decisions they will ever have to make.  Tony Richardson is now a free agent after being released by the New York Jets and available to sign with any team in the league.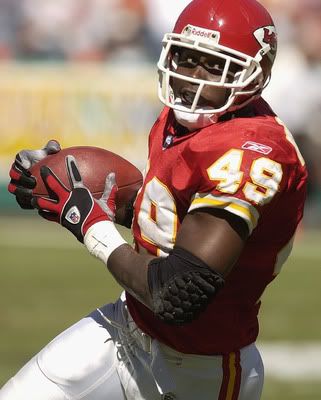 Put aside for a second that Richardson spent 11 seasons in Kansas City.  Forget that he was universally loved by all Chiefs fans.  Look simply at what the current regime is trying to accomplish and what Richardson brings to the table.
We know that Pioli and Haley do not want to upset their roster in order to bring in a new players.  With the team currently carrying two fullbacks — Mike Cox and Tim Castille — they would be able to make a simple swap to get the veteran onto the 53-man roster.
There is also the issue of cash.  The Chiefs currently own one of the lowest payrolls in the league and have no interest to throw big money around.  Richardson was due to make roughly $800,000 in 2010, not exactly an amount that will damage Clark Hunt's checkbook.
Then we also have to consider what the current has been preaching from day one.  Both Pioli and Haley have talked about wanting big, strong, fast, tough, disciplined football players.  Now I'm not about to claim that there is much speed left in Richardson's tank, but I have no hesitation to say he fits every other criteria.
When you are dealing with an absolute worst case scenario of Richardson showing up, showing he isn't able to cut it at this level anymore and the Chiefs end up on the hook for less than a million dollars to the best fullback the franchise has ever had.  Pioli isn't in the business of handing golden parachutes, but I have confidence that T-Rich is only going to sign with a new team if he feels he can bring it every day.
If the Chiefs were to bring Tony Richardson back to Kansas City, we are talking about zero downside.  None.  Zip.  Zilch.